DownBeat Magazine Student Music Awards caps a banner year for Rio Band
The Rio Americano High School Band Program is receiving three major awards from DownBeat Magazine, the print authority on Jazz since the 1930's. The awards are:
Co-winners "Best High School Large Jazz Ensemble" – 'AM Jazz Ensemble'
Co-winner "Best High School Small Group" – 'Rio's Mingus Legacy Octet'
Winner – "Best High School Jazz Arrangement" – Rio Junior Jackson Irvine.
The 42nd Annual DownBeat Student Music Awards recognizes excellence in music education, and the winners come from an international pool of applicants.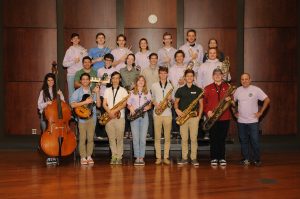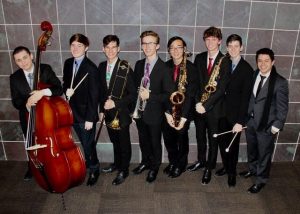 The recognition caps a banner year for Rio Band which includes:
The AM Jazz Ensemble was named a finalist in the Essentially Ellington Jazz Festival, to be held May 9 – 11th at Lincoln Center in New York City. This will be Rio's ninth appearance at the "super bowl of High School jazz festivals". Only 15 bands are selected from across North America for this honor. Along with performing at Lincoln Center, the band will receive clinics and be judged by jazz greats including Wynton Marsalis.
The Rio PM Jazz Ensemble was selected as one of twelve national finalists in the Swing Central Jazz festival in Savannah, Georgia and they performed on April 5th. This was Rio's second time at Swing Central.
Rio Jazz bands recently placed second in both big band and jazz combo at the Monterey Next Generation Jazz Competition. As one of the top three bands at the event, the AM ensemble has been invited to perform at the world-renowned Monterey Jazz Festival in September. This will be Rio's 17th time performing at the festival.
Rio Band was selected by Eastman Wind Instruments as winner of the national "Perform With Mintzer" competition. Legendary saxophonist Bob Mintzer will be performing with Rio Band on October 17, 2019 in Rio's new Performing Arts Center.
"In the storied history of Rio Band, we've never had a year quite like this one. These kids have worked harder than ever, they have created beautiful music, and that music has been recognized with more accolades than ever before"- Josh Murray, Rio Americano Band Director
With three concert bands, three jazz bands, and a one-of-a-kind small ensemble class, the Rio Americano Band Program has a long been acknowledged as one of the finest high school music programs in the United States. This year, several Rio band seniors have been offered full or significant scholarships to the Berklee College of Music, UCLA – Herb Albert School of Music, and a UOP Jazz Ambassadorship, among others. Alumni are currently found at the top colleges and conservatories including University of Miami Frost School of Music, Oberlin, Berklee, The New School, and California State University Northridge. Former Rio Student – John Daversa was a winner of three 2019 Grammy Awards and is currently the Jazz Chair at the Frost School of Music.
More information on the awards can be found at www.downbeat.com/sma/