Rio Band is pleased to introduce to all of you Mr. Murray's new teaching partner, and our new Band Director- Mr. Mitch Evett. Mr. Evett will be teaching the PM Jazz Ensemble, Intermediate Concert Band, two piano classes, and co-directing Honors Concert Band . We will be holding a meet-and-greet on Monday, August 12 at 7pm in the band room. Mr. Evett and Mr. Murray will be there to schmooze with everyone in the Rio Band community. Feel free to drop by and meet the newest member of our family!
Here's a bio and message from Mr. Evett-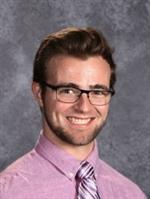 Hello Rio! I grew up in Vernon Hills, IL where I was heavily involved in the music scene, playing bass trombone in concert and jazz band, orchestra and singing tenor in choir. I have a Bachelor of Music in Instrumental Music Education from St. Olaf College in Northfield, MN. As a student at St. Olaf, our jazz band was selected as the best college jazz ensemble by DownBeat Magazine- just like Rio! After graduating, I taught high school and middle school band in Shakopee, Minnesota for five years and was the assistant conductor for the City of Lakes Community Band. While at St. Olaf, I met my wife Britta, who matched for residency in OB-GYN at the UC Davis Med Center in Sacramento. We were married on June 8th this year and quickly moved to Sacramento to begin our new life together. I am thankful and excited for the opportunity to work at Rio Americano High School alongside Mr. Murray, and can't wait to start making music with everyone. Go Raiders!
-Mitch Evett